Process Gas Project: Delivering Environmental Sustainability
Author: Sudbury INO | Date: 06/01/2022
The latest achievement in our continuing effort to reduce our sulphur dioxide and particulate footprint— is the $288 million Process Gas & Particulate Emissions Projects.
PGP & PEP - by the numbers
1.24M+
hours worked on site
280
record consecutive Zero Harm days
86%
reduction in hours above 120 parts per billion SO2 since 2014
62%
reduction in measured cadmium concentrations
50%
reduction in measured nickel concentrations
66%
reduction in measured cobalt concentrations
C$288M
total project spend
802
trade partners full-time equivalent
58
Glencore annual full-time equivalent
Proudly, the PGP and PEP journey was successfully completed in the fall of 2021, led by our own employees, in partnership with our trade partners, which serves as a testament to the depth of experience, talent and commitment to innovation found locally. The positive, collaborative working relationships struck with our trade partners were a significant contributor in bringing these projects to fruition.
Follow our journey in establishing a Glencore/Hatch fully integrated team that nurtured a culture that celebrated success and reinforced positive safety behaviours, ultimately leading to the completion of these projects, safely and below budget – no small feat considering the length of time of the projects and their considerable complexity in terms of being built in an active facility.
The PGP and PEP journey
2005
Ontario Regulations 194 and 419 promulgated requiring the smelter reduce total SO2 emissions and modelled SO2, Cd and Ni emissions
2008
(1) Technology Scoping Study – Smelter Expansion study using the Isasmelt Process (2) Scoping Study Report – High Roast for 85 kt/y Ni (3) Scoping Study Report – Furnace Offgas Scrubbing Concept
2010
Scoping study final report
2011
Investment Committee Presentation (for project implementation). PFS Project Review and Plan
2013
Approval for PGP Phase 1 project
2015
(1) Improvements to the feed prep, roaster offgas and acid plant processes. (2) Major enhancements to the electric furnace. (3) New hybrid converters along with design modifications to the converter aisle flow to improve efficiency.
2017
Approval for PGP Phase 2 project funding
2018
Approval PEP Phase 1 funding
2019
Approval of remainder of PEP Phase 2 funding
2021
PGP scope and PEP construction scope completed with full closure of project anticipated for Q1 2022.
The first seeds of the PGP and PEP projects were sown in 2005 when the Ontario Government announced its future environmental regulatory requirements calling for significant reductions in sulphur dioxide (SO2), nickel and cadmium emissions.
To ensure compliance while maintaining smelter capacity, we examined a number of options. By 2013, the PGP team, working with a number of our highly qualified trade partners recommended a series of innovative changes to the existing smelting process and equipment that would yield significant reductions in SO2 and particulate emissions to the environment and local community.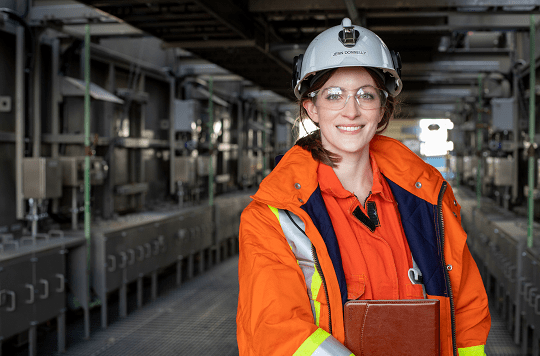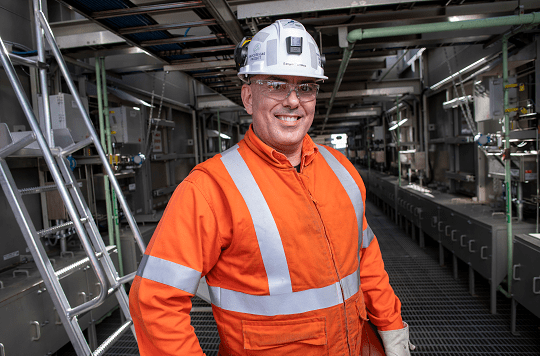 Due to its scope, and to be able to make the changes required while the smelter continued to operate, the project was split into three phases.
Improvements to the Sulphur dioxide and acid plant gas capture from our roasters through improved feed blending
Major enhancements to the electric furnace
New hybrid converters along with design modifications to the converter aisle flow to improve efficiency
Reduced particulate emissions from the converter aisle through secondary hoods and a new stack
Enhancements at our acid plant
A new mixing station
Upgrades to our thaw shed for railcars
Improvements to dust capture at the furnace feed gallery
Moving more custom feed activities indoors, by investing in:
New Blending and Bulk Receiving buildings ventilated to a baghouse
New Package Receiving building and baghouse
New railcar and truck concentrate building and baghouse
New 3 season truck tire wash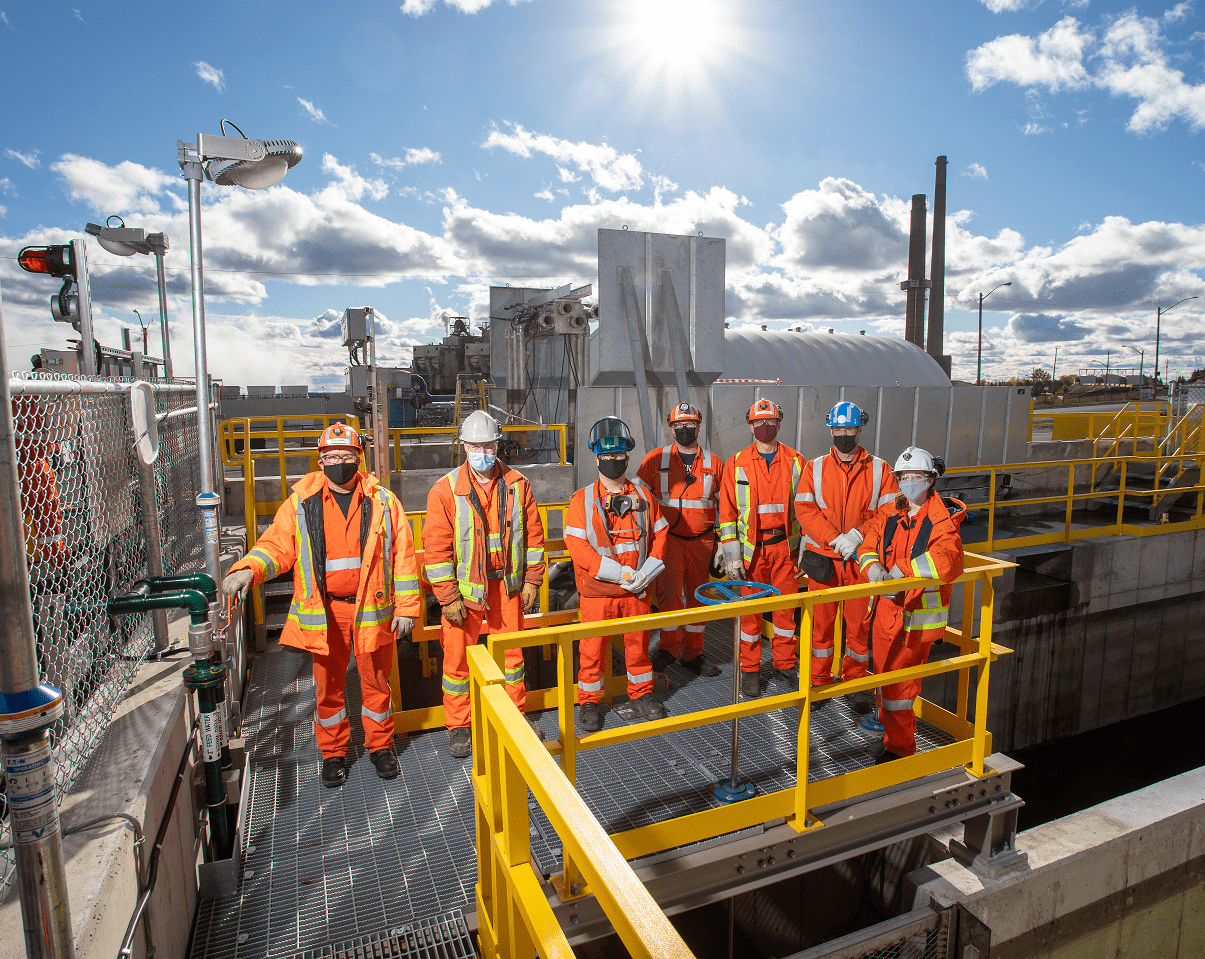 Safety and sustainability
Despite the complexities of making such significant upgrades to our smelter operations while it continued to operate, the projects were completed with more than 1,200,000 hours worked with zero Lost Time Injuries.
The PGP/PEP team's safety program was coordinated with the smelter's own internal goal: "Zero Harm". It is based on the principle that every worker is entitled to a safe working environment and is responsible for working safely, all integral to a sustainable operation.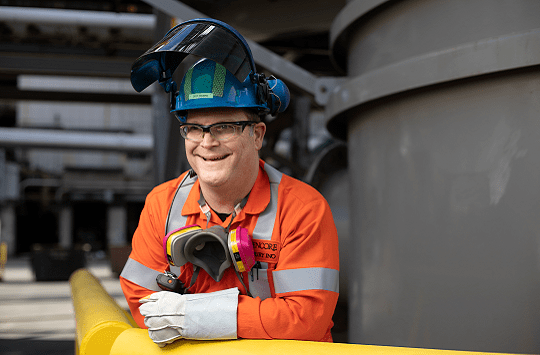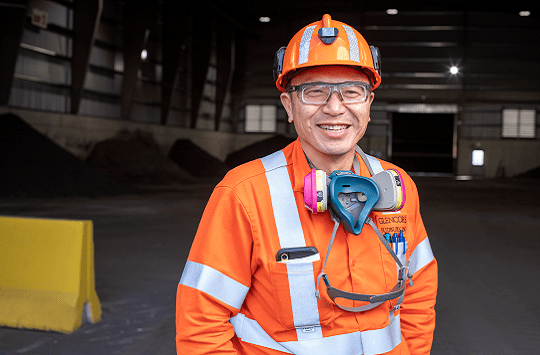 Local solutions — local benefits
We are continuing to monitor SO2 and particulate emissions at monitoring stations throughout the community. Since PGP/PEP's completion, we have met the site specific standard commitments as set out by the Province while continually increasing our production levels and contributing to the local economy.
This is a demonstration of our ongoing commitment to the wellbeing of the environment, the community and our workforce.
We acknowledge the Glencore/Hatch Integrated Team, and all trade partners involved in realizing these projects.
We are proud to work with them to help modernize our smelting complex and to further work with external feed suppliers to secure our future.
Further, the projects provided a significant economic benefit to the community through the engagement of our Integrated Team and our trade partners. This modernization of our smelter operations truly is a reflection of our primary purpose — to responsibly deliver the commodities that advance everyday life.
You may also be interested in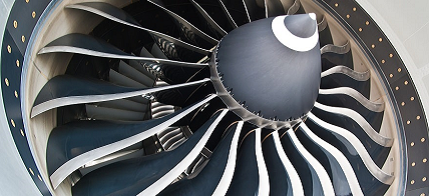 Our Integrated Nickel Operations Celebrates 30th Year in the Recycling Business