Virtual Information Session
Ecological Risk Asessment
(Marine and Terrestrial/Freshwater)
Terrestrial ERA

Terrestrial/Freshwater Testing Included :
Soil chemistry and physical characteristics
Freshwater sediment and surface water chemistry analysis 3. Soil invertebrate tissue sampling
Vegetation community assessment
Breeding bird and fledgling survey
Small mammal survey (including tissue analysis)
Rare vascular plant survey
Fish and electro-fishing survey
Conclusions of Terrestrial/Freshwater Study :
Low risk to vegetation excluding near-field areas immediately south/southwest of Smelter
Low risk to soil invertebrates, birds, and mammals.
Low risk to freshwater aquatic life in nearby streams (invertebrates, fish). Potential for moderate risk to benthic invertebrates in unnamed stream near new slag pile.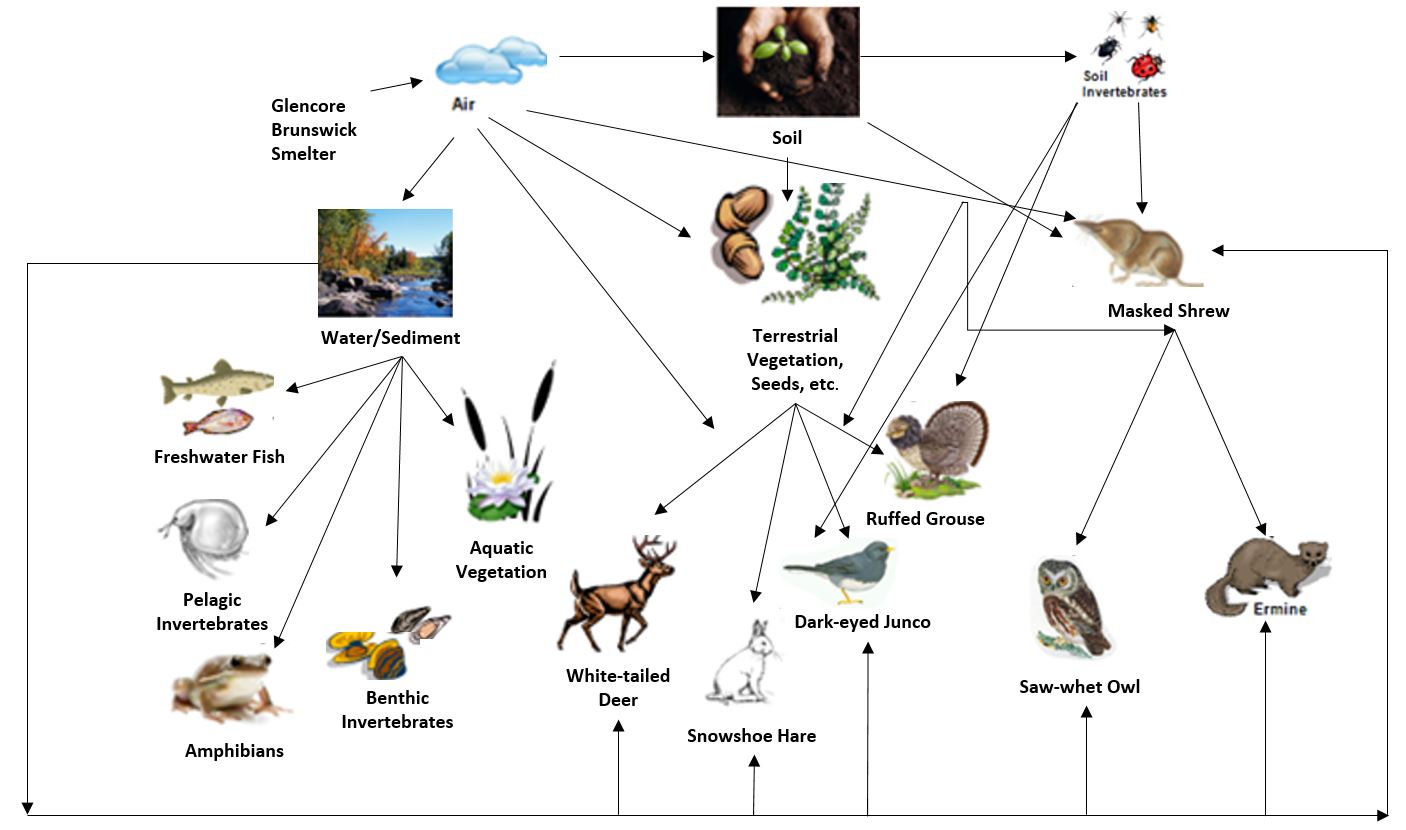 Conceptual Model for Terrestrial and Freshwater Aquatic Receptors in the ERA
Soil Sampling Locations for the Shore Road Soil Study and Terrestrial 
Marine ERA
Marine Testing Included :
Sediment/beach chemistry and physical characteristics

Marine water chemistry analysis
Benthic invertebrate abundance and diversity
Shellfish health assessment including mussel deployment and monitoring
Fish health assessment (survival, growth, condition and reproduction)
Fish, aquatic invertebrate and shellfish tissue analysis
Salvage chick (common tern) organ tissue and egg analysis
Shorebird population and nesting survey
Conclusions of Marine Study :
Low risk to marine phytoplankton, water-column invertebrates, shellfish and fish
Low to moderate risk to marine benthic invertebrate community limited to effluent discharge points
Low to moderate risk to avian species nesting and foraging in area

Low risk to common tern based on multiple lines of evidence including modelled exposures, clutch counts, measured residues in eggs and bird organs, and food (fish) tissue concentrations
Low risk to black-crowned night heron based on modelled exposures
Potential for moderate risk to sandpiper generally limited to Belledune Point but effect on local population considered unlikely.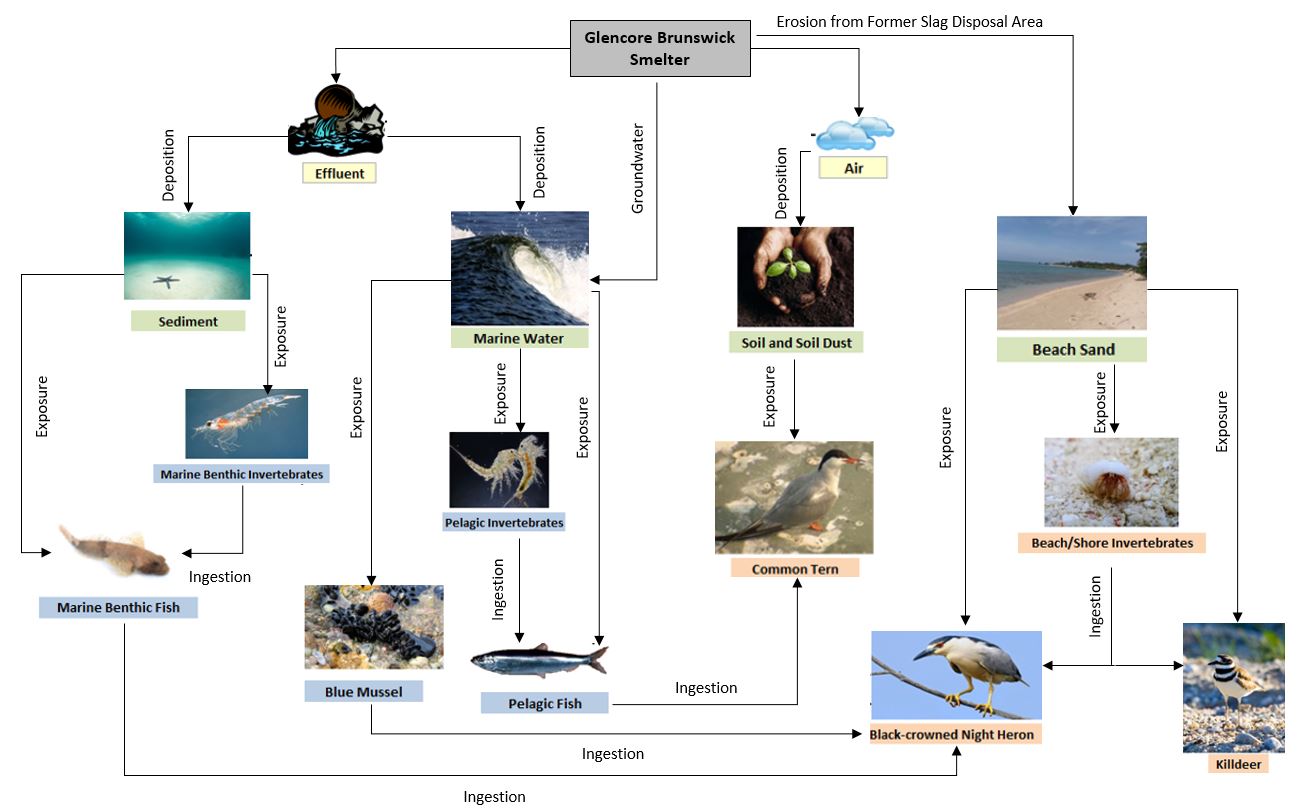 Conceptual Model for Marine Aquatic Receptors in ERA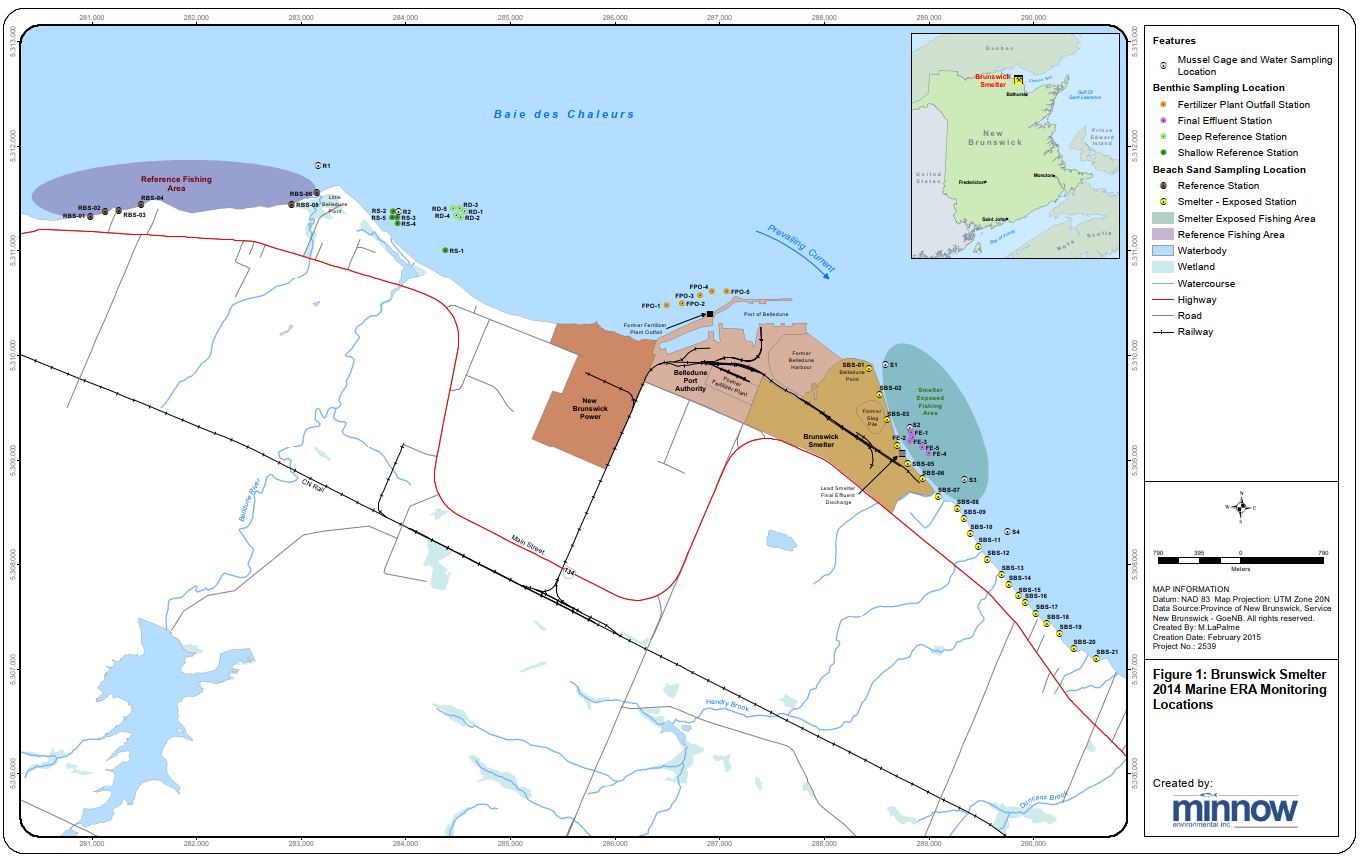 Sampling Locations for the Marine ERA