Our Canadian operations place safety as a top priority, no different from any other of our operations found around the world.
We aim to become a safety leader in our industry, creating a workplace without fatalities, injuries or occupational diseases.
Supporting our approach to safety is SafeWork – our global initiative designed to give everyone in our business the tools and knowledge to perform their tasks safely. Above all, every individual is empowered to stop unsafe work.
Mining has a deep history in Canada; as such, many of our sites across the country operate at industry-leading levels when it comes to safety – and they have the industry recognition to prove it.
SafeWork
Bringing about long-term sustainable change, to eliminate fatalities and serious injuries
Insights and stories
Speaking SafeNickel with Scott, Mine Serviceperson at Fraser Mine
The Win-Win-Win: Safety, Community Relations & Business Go Hand-in-Hand at CCR Refinery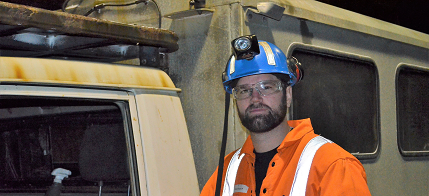 Speaking SafeNickel with Paul Soucy, Trainer, Underground at Raglan Mine
Nickel Rim South Mine is Honoured with the John T. Ryan Regional Safety Award
Raglan Mine wins the 2017 F. J. O'Connell Trophy
At Kidd Operations, the site's most recent recognition was the 2015 Workplace Safety North (WSN) President's Award, which is awarded to member firms in recognition of their strong safety culture. WSN is the province of Ontario's occupational health and safety association for forestry, mining, and paper, printing, and converting sectors. This was the second time Kidd Operations received this award, and forms just a part of a long history of safety accomplishments, including taking home the national John T. Ryan National Safety Trophy for Metal Mines 11 times since 1975.
Approximately 300 kilometres south of Kidd Operations in Timmins, Ontario is our Sudbury Integrated Nickel Operations (INO) where they are no stranger to industry recognition for their safety performance either.
In 2018, Nickel Rim South Mine, part of Sudbury INO, received the Regional Metal Ontario John T. Ryan Award for having the lowest reportable injury frequency in 2017. This marked the second year running Sudbury INO claimed this honour as Fraser Mine took home the award in 2016 and marks the fourth time the site has received this award in its history.
Raglan Mine also received industry recognition for its safety record collecting the F.J. O'Connell trophy from the Quebec Mining Association. This trophy takes into account improvements in a company's safety record, its record compared to the industry average, and its combined accident frequency rate based on specified target values.
CCR Refinery, based in Montreal, is increasingly moving toward its goal of establishing a zero harm workplace. Indeed, the site has maintained a world-class health and safety performance over the last 5 years:
Accident frequency1 reportable less than five per million hours worked in the last five years;
Accident frequency1 with lost time less than 1.25 per million hours worked in the last five years.
1 Accident frequency based on one million hours worked
Last, at Viterra, part of our global Agriculture business, the team has made it clear that they believe that healthy people are productive people. The company demonstrates its respect for employees, contractors, customers and visitors by keeping health and safety top of mind.
Much like its counterparts in the Metals & Minerals segment of our business, Viterra has received industry recognition for its safety performance. Notably, Safe Saskatchewan, a registered not-for-profit organization, recognized Viterra with their Mission: Zero Award, which is given to workplaces that demonstrate a sustained improvement in their injury rate over time and that influence a transformation in their organizational culture
You may also be interested in