SUSTAINABILITY
Environment
In Canada, just as we do across our global operations, we seek to minimize our impact on the environment
We work to avoid environmental incidents: our rolling target is to have no major or catastrophic environmental incidents.
Beyond working to avoid environmental incidents, we push the boundaries of sustainability. As an example, Raglan Mine is continuing to innovate in the area of renewable energy.
The team won a 2016 Towards Sustainable Mining (TSM) Excellence Award from The Mining Association of Canada (MAC) for its wind turbine and storage facility built in 2014 with partner TUGLIQ Energy. Building on its success, a second wind turbine was erected in August 2018.
Together, the two wind turbines are expected to produce approximately 10% of Raglan Mine's energy and save about 4.4 million litres of diesel annually. Moreover, the two wind turbines are expected to reduce greenhouse gas emissions by approximately 12,000 tonnes, the equivalent of taking 2,700 vehicles off the road.
Environment Strategy
Our assets manage environmental risk in line with our environmental policy.
Looking to the future, the renewable energy model pursued at Raglan Mine carries promise for Inuit communities in Nunavik as the villages in this remote part of Canada rely on fossil fuels for electricity, just like Raglan Mine's operation.
In Canada, respect for the environment and relations with Indigenous communities close to our operations go hand-in-hand. At Sudbury INO, for instance, the team partnered with the Wahnapitae First Nation (WFN) to launch the Massey Creek Watershed Biodiversity Enhancement Program with the aim of improving local water quality and enhancing overall biodiversity.
This commitment to biodiversity shapes other efforts Glencore makes in response to community concerns about their ways of life. In northern Ontario, fishing is deeply engrained in the local culture, making fish an obvious focal point for re-population efforts by both Kidd Operations and Sudbury INO. Thanks to the support of these two sites, the sturgeon and walleye have made impressive population comebacks as highlighted in Go Fish! and Gone Fishing.
Insights and stories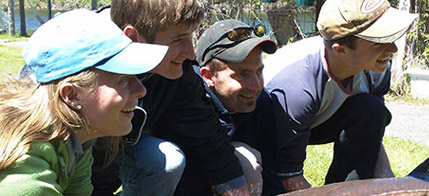 Gone Fishing: Partnerships for Fish Re-Population

The Massey Creek Watershed Biodiversity Enhancement Program
Building Sustainable Agriculture from the Ground Up
Cultivating Value-Added Marketing Opportunities
You may also be interested in