In Canada, we support the sustainable, long-term development of the local communities in which we operate – as we do everywhere in the world where we operate.
First, the tax and royalty payments we make in connection with our activities are used to provide citizens with government services and infrastructure to improve their quality of life.
Taxes, royalties and the like, however, are only one element of our broader economic and social contribution in Canada.
At the Horne Smelter, located in the mining town of Rouyn-Noranda, Quebec, the company's employees are encouraged to volunteer in their community. Employees can take advantage of a community engagement program that provides up to $1,000 for a community-based project. For its part, the management team of the Horne Smelter contributes about 2,000 volunteer hours annually to socio-community and economic organizations in their community.
Engaging with Communities
Our operations can bring socio-economic benefits to our host communities.
One way that Viterra gives back to the community and the agricultural industry is through their community investments and partnerships. As an example, Viterra is a long-term supporter of the Canadian Foodgrains Bank (CFGB), an organization dedicated to ending hunger in developing countries. Viterra donates $5.00 for every tonne donated to the Canadian Foodgrains Bank, and donates land each year for use with CFGB Growing Projects.
At Sudbury INO, located in northern Ontario, the team supports communities by contributing to local and regionally relevant initiatives, which build community capacity and sustainability in key giving areas. In the spring of 2018, the site published its Report to the Community detailing the progress of its various community engagement efforts.
Last year, CCR Refinery in Montreal made a $70,000 donation to the Fondation du Centre de santé et de services sociaux de la Pointe-de-l'Île (Foundation for the Centre of Heath & Social Services of Pointe-de-l'Île). This donation went toward the purchase of ten bilirubinometers for the neonatal ward, which are devices used to measure the concentration of bilirubin in the blood and, therefore, the level of jaundice a newborn baby is experiencing.
Health professionals typically use bilirubinometers when conducting home visits during post-natal follow-ups. In the absence of these useful devices, nurses gauge the level of severity of the jaundice using their vision and clinical judgment. In the absence of hard data, infants in this situation are referred to a local hospital. Now, with the bilirubinometers on hand, nurses can carry out an accurate on-site assessment helping to avoid unnecessary travel for the new parents and ease the stress on hospital services.
Insights and stories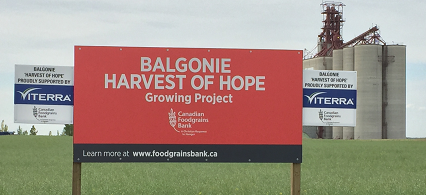 Viterra Expands Partnership with Canadian Foodgrains Bank
You may also be interested in