CEZinc Runs COVID-19 Vaccination Clinic
Author: Glencore Canada | Date: 21/12/2021
Our CEZinc refinery joined forces with provincial health authorities, as well as local educational institutions and businesses, to rollout a local COVID-19 vaccine program, which ran from May 5 until August 26.
The effort focused on opening a clinic in CEZinc's host community of Salaberry-de-Valleyfield, located approximately 60 kilometres west of Montreal. With a population of 42,210 as per the 2019 census, the team, under the direction of Jean-Francois Gagnon, Director, Human Resources, targeted 15,000 vaccinations to be administered to the local community with a priority given to vulnerable populations, such as the elderly, as well as CEZinc's own employees and families and the employees and families of other local businesses.
CEZinc COVID-19 vaccination clinic – by the numbers
15,000
vaccinations set as a target
17,680
vaccinations actually administered
180
average doses administered per day
358
was the highest number of doses administered in one day
51
workers hired to operate the clinic
33
local businesses participated in the effort
Further to providing financing, CEZinc worked with the two primary local educational institutions, Cégep de Valleyfield and Centre de services scolaire la Vallée-des-Tisserands, and received support of the health authorities who provided materials and vaccines. Given their relative proximity to Salaberry-de-Valleyfield, the vaccine was also made available to employees and their families out of our office in Montreal and those at General Smelting of Canada, part of our zinc and lead business, located in Lachine.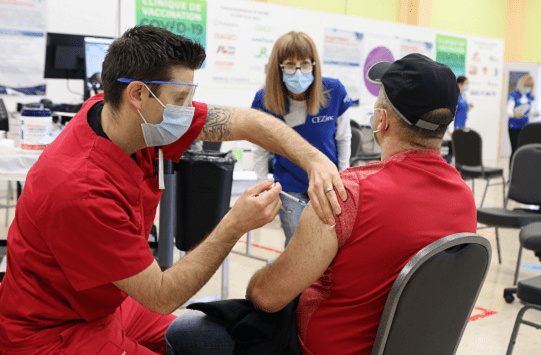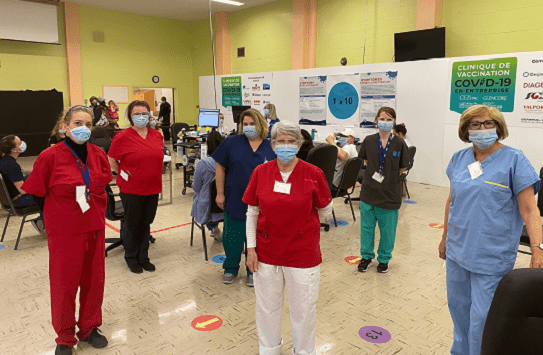 Thirty-three local businesses participated in the effort, including providing additional funding for the clinic. Once doses were more readily available, the clinic opened its facilities to the local student population given the role the educational institutions played in providing the site for the clinic and its adjacent administrative facilities.
Proudly, among the 25 vaccination clinics across the province established by private businesses, the CEZinc clinic registered first among the 70 years and older age category helping them administer 17,680 vaccinations across all age groups – extending well beyond their initial 15,000 target.
Now more than ever before, our mandate of social responsibility is reflected in our care for the communities in which we operate. As a responsible operator, CEZinc demonstrates that our top priority is to protect the safety and health of our people and the communities that host our businesses.
You may also be interested in