Viterra Expands Partnership with Canadian Foodgrains Bank
Author: Glencore Canada | Date: 12/11/2018
After piloting a project in 2017 with Foodgrains Bank, Viterra, a Glencore Agriculture company, is expanding its partnership with this non-profit organization whose mission is to end global hunger.
In 2017, Viterra provided the Canadian Foodgrains Bank with access to 42 acres of land to use for farming in Balgonie, Saskatchewan and Stettler, Alberta. In 2018, it committed to increase that number to nearly 400 acres, which will be coupled by the efforts of farm families and communities in towns across Alberta and Saskatchewan ready to volunteer their time, equipment and resources to aid in the farming process.
In November 2018, Viterra and Canadian Foodgrains Bank celebrated the growth of their partnership at an event that featured several keynote speakers who included Viterra's Market Centre Manager for Lethbridge and area, Davin Lockwood, local farmer Leslie Bolstad from Mercer Seeds and Foodgrains Bank Board Chair Ken Kim.
On behalf of the Foodgrains Bank, Ryan Mercer farmed the land in Lethbridge. His business, which he runs alongside extended family, is a full crop production and cleaning operation.

The family has contributed to the work of ending global hunger through the Foodgrains Bank for several years through their own growing project. "We're richly blessed here in Canada, and it's a way of giving back," Mercer says. "It is something we can do both at the local level as well as an agricultural community to help end hunger. Larger corporations such as Viterra can be involved, as well as small family farms."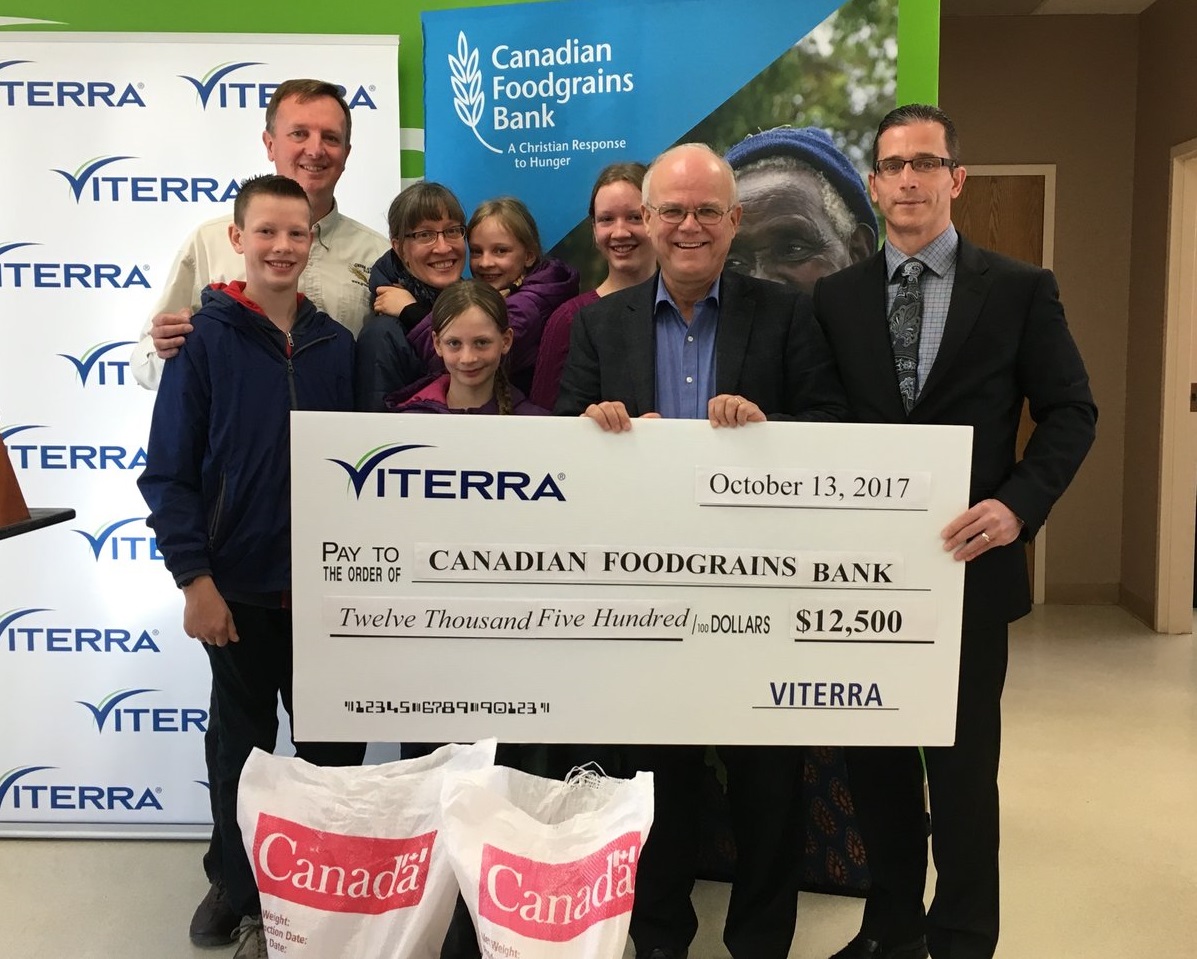 In 2017, Viterra and the Canadian Foodgrains Bank celebrated their successful partnership with a field event at Viterra's Balgonie grain terminal in Saskatchewan. Land access donated by Viterra around Balgonie grain terminal raised $12,500 for the Foodgrains Bank.
Once the food is harvested, proceeds from the sale of those crops will be donated directly to the Foodgrains Bank. Viterra is thrilled to support the amazing work of the Foodgrains Bank as it raises awareness of global hunger and puts forth strategic initiatives to alleviate the hunger pains of the neediest countries around the world. The significant increase in land will give volunteer farmers a higher volume potential – in other words, more contribution towards the Foodgrains Bank at harvest time.
Kyle Jeworski, Viterra's President and CEO, says: "We're pleased to support the substantial growth of our partnership with the Foodgrains Bank this year by providing additional land to local farmers, who have been very generous in donating their expertise, time and equipment. This is a great example of a team effort to directly help those in need while raising important awareness about global hunger."
In addition to the land, Viterra will give a donation of $5 for every tonne of crops donated to the Foodgrains Bank through one of its grain elevators located in Western Canada.
The Foodgrains Bank represents a partnership between 15 churches and church-based agencies that collaborate and work together to end hunger on a global scale. They fulfill their purpose by supporting international programs designed to meet immediate food needs, decreasing malnutrition and achieving food security in a lasting way. The organization has an influence on national and international policy improvements aimed at ending global hunger. And there are continual efforts to educate and engage Canadians about the reality of global hunger to drive increased involvement in the solution.
The Viterra and Foodgrains Bank partnership reflects Glencore Agriculture's strong commitment to give back to its local communities and beyond. To couple this effort, Canada's leading grain handler and marketer is donating the land to make a difference in the individual lives of starving people.