The Win-Win-Win
Author: Glencore Canada | Date: 23/11/2016
The products our society have come to enjoy and depend on – be they the latest phone, a surgical instrument or even sentimental objects like an engagement ring – have their origins in mining.
Companies like Glencore work to keep up with the ever-growing demands to create these products. But there is no denial that the process of mining and producing these important items comes with challenges. One such issue is the use and storage of refinery products such as sulfur dioxide (SO2). Though as Glencore and its CCR Refinery in Montreal, Quebec have proved, a dedication to risk management, safety and community relations can make even a difficult issue have a positive outcome.
SO2 is a heavy gas required in the production of gold and selenium. Any kind of accidental release of this substance would be considered an environmental and health hazard. Anyone working or living near where sulfur dioxide is routinely used or stored has a sensible reason to be concerned about how it is handled. This is why the CCR Refinery has held itself to a high standard of transparency and community relations.
In 1995, CCR Refinery and the other members of the Association Industrielle de l'Est de Montréal created the Citizen's Committee – Comité Mixte Municipalités-Industries-Citoyens de l'Est de Montréal (CMMIC-EM) – a voluntary group involving citizens. This committee is dedicated to discussing potential risks, and developing a culture of safety in the local community and industry.
This Citizen's Committee took a very active role when the CCR Refinery recently decided to reassess its on-site storage of sulfur dioxide. During the early years of operation of the selenium plant, liquid sulfur dioxide was stored on-site in two 40-tonne storage tanks. At that time, the hazard zone considered for emergency planning was evaluated to be in excess of 25 kilometres.
In early 2000, CCR refinery in co-operation with Glencore's CEZinc refinery decided to invest in a process where sulfur dioxide was stored and transported in an amine solution, thereby reducing the emergency planning zone from 25 kilometres to less than 500 metres. At that time, the capital investment and ongoing maintenance of the plant was based on the expectation that other companies would be interested in this process of safe transportation and utilisation of SO2, called CANSOLV.
However, some 14 years later, the CCR Refinery was still the only user of the CANSOLV process. The costs associated with being the sole user of this process were excessively high and impossible to sustain. In 2014, CCR Refinery decided to explore the possibility of shutting down the CANSOLV process and to switch back to storing liquid SO2 in one tonne storage cylinders. Moving forward with this decision would have resulted in a new emergency planning zone of slightly above eight kilometres, which could potentially affect thousands of residents in the event of a major release.
The challenge was seen as an opportunity. How could CCR Refinery move forward with this transition while creating an even safer operation for its employees and the community at large?
Not only was the Citizen's Committee immediately engaged to discuss this potential new strategy, as was the community as a whole, the CCR Refinery drafted a new emergency planning scenario and presented it to the authorities and to the community during a public meeting held in November 2014. These risk reduction measures were applauded by the community during the meeting.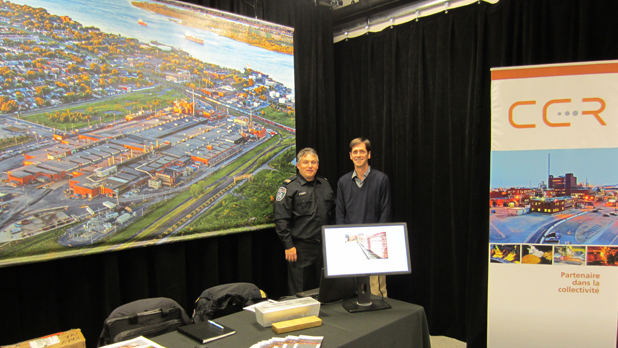 On November 20, 2014, Alain Dumouchel, Supervisor, Safety and Emergency Response, and André Girard, Coordinator, Transportation of Dangerous Goods, represented Glencore's CCR Refinery in Montreal East at a public meeting at the Anjou Community Centre. They met with approximately 50 members of the local community to discuss the risk reduction measures CCR Refinery was taking to ensure an even safer operation for its employees and the community at large
Ultimately, the various initiatives that made up the new strategy reduced the emergency planning zone to less than 200 metres.
As planning continued, the transition process was presented to the members of the Citizens' Committee in February 2015. Committee members asked various questions regarding the potential risks that might occur in the Montreal East community. The CCR Refinery was able to answer questions directly, provide facts and alleviate concerns.
Members of the Citizen's Committee gained confidence in the plan and saw the CCR Refinery as sincere in its commitment to protect the community against harm.
"At a Citizens' Committee meeting in February, CCR informed us about the transition process," says Lucie Isabel, who is not only a member of the Citizen's Committee since 2007, but an owner of a business situated close to CCR. "We took note of the various protective measures put in place by CCR to secure the handling of this product to reduce the emergency planning zone. The information presented was very reassuring. I believe we have a good exchange of information with CCR, which always keeps us well informed of the various changes taking place within the company."
As an added benefit, the risk reduction plan also enabled the CCR Refinery to increase the sulfur dioxide injection rate from 110 kg/hr to 180 kg/hr, which has the potential to increase the current selenium production rate by 20 per cent. The change from CANSOLV to one-tonne liquid cylinder will also reduce CCR's operating cost by approximately $1,000,000 per year.
In all, it's a win-win-win solution that has the community's backing. Glencore's CCR Refinery has proved that when the best intentions are put first, not only can innovative safety solutions arise, but so can a reduction in operating costs and an improvement in productivity.