Reading: A Key to Academic Success
Author: Glencore Canada | Date: 18/03/2017
Benjamin Franklin is quoted as saying, "an investment in knowledge pays the best interest."
For the residents of the northern Quebec city of Rouyn-Noranda, they are already seeing that "interest" come to fruition, in large part thanks to the generosity of Glencore's Horne Smelter.
In recent years, Rouyn-Noranda, where the Horne Smelter operates, had been experiencing a concerning trend: the school dropout rate for boys was upward of 30 per cent, a rate that well exceeds the provincial average of 23 per cent. Over the same ten-year period, the dropout rate for girls went as high as 13 per cent. These figures were worrisome for the people of Rouyn-Noranda; after all, a lack of education could make things difficult for the city's youth to find gainful employment. Conversely, it would also be harder for the Horne Smelter to find qualified, local employees.
Given this situation, Horne Smelter decided to make education a community involvement priority. Projects related to learning, especially those targeting school attendance and academic success, have since benefited in recent years from increasing financial support from the company.
How did this come to be? Through research and consultation, it was determined that one of the best ways to keep young people in school was to encourage and address issues around literacy. According to the results of a Statistics Canada 2006 survey of youth in transition, reading literacy at the age of 15 plays an important role in completing high school and attending postsecondary institutions. According to 2004 data, youth with good reading literacy are more likely to obtain their high school diploma, while those who have difficulties are more likely to drop out or still be in high school at age 19. It was also found that reading at an early age, a skill often acquired at home, fostered a meaningful interest and taste for reading and learning.
The strategy the Horne Smelter took was to invest financially in the three local libraries. These settings are now more vibrant and user-friendly, and are attracting an interest in reading among young people.
One school in particular, École D'Iberville, received special attention. This is the area's high school that serves 1,200 young people in the community. With the Horne Smelter's contribution of $25,000, the École D'Iberville library was outfitted with new furniture, paint, flooring and electronic equipment.
The improvements made in 2014 quickly had a positive effect: the number of École D'Iberville library patrons jumped substantially. From September 2014 to April 2015, the lunch hour alone saw an increase from 271 to 758 students. Compared to the previous school year, library use increased by 106 students each month. These figures speak volumes about the project's impact on the school's student population. As for measuring the impact on academic success, school staff members are convinced that the coming months and years will show positive results.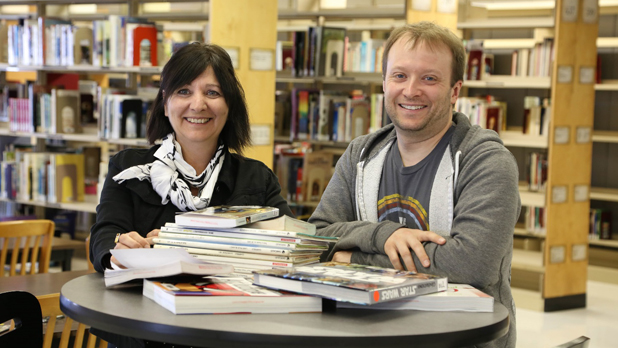 Sylvie Rivest, Principal, and Jean-François Cossette, Librarian, proudly pose at the newly renovated library at École D'Iberville located in Rouyn-Noranda, Quebec, thanks to funding from Glencore's Horne Smelter. The investment quickly began paying interest as student visits to the library have spiked considerably.
"Compared with the previous two years, the numbers for the 2014-2015 school year are very revealing, especially when we add up the number of students who came to the library during the targeted period," says Jean-François Cossette, the school's librarian.
Sylvie Rivest, principal of École D'Iberville, emphasizes the importance of having a place that fosters an interest in reading.
"The library's layout had not changed since the school was built 40 years ago! We had to find a partner who would help us succeed with our library improvements – all designed to increase the interest of young people in reading," says Rivest. "The financial support of Horne Smelter was critical as it enabled us to carry out our project quickly so our students could benefit from the improvements by the start of the 2014-2015 school year."
This investment in education and a community's future is one that Glencore is proud to be a part of. The company is eager to see how the students and community continues to develop, now that the foundation for learning has been strengthened.