Healthy Choices
Author: Glencore Canada | Date: 10/08/2017
La Fondation des gens d'affaires et des industries de la Pointe-de-l'Île (The Foundation of Business People and Industry in Pointe-de-l'Île) consists of dedicated people who invest time and resources to help people in need in the easternmost part of the island of Montreal. The Foundation is comprised of representatives from different companies and industries in Pointe-de-l'Île, including Glencore's CCR Refinery. One area they have decided to target their help is for hungry school children.
The Foundation has contributed a combined $450,000 over the last ten years to provide breakfast to children in schools in the area. To do this, the Foundation has held an annual lobster dinner. This past May was the 10th Anniversary of the dinner with more than 800 people raising $50,000.
As a result of these efforts, 45,000 lunches a year are served to five elementary and high schools situated in a disadvantaged area of the city. Due to circumstances sometimes outside the control of parents, some children arrive to school hungry. The program aims to do what it can to alleviate this issue.
According to Food Banks Canada's HungerCount 2015 report, one in eight Canadian families struggle to put food on the table. And, according to the Daily Bread Food Bank's Who's Hungry 2015 report, 32% of the people requiring food assistance are children. This not only impacts a child's physical development but also their performance, behaviour and attitude in class as it impacts their ability to learn and function. It prevents them from reaching their full potential in the classroom, and in life.
Children who go to school hungry risk many lifelong consequences including less developed literacy and numeracy skills and poor health due to a lack of good nutrition. This can impact long-term physical and mental health, and socio-economic outcomes.
It's for these reasons that CCR Refinery has engaged so proudly in this cause and its efforts to improve lives in its neighbourhood.
In 2013, CCR Refinery Union President, Gilles Bordeleau, with the support of management, proposed that employees of the plant volunteer their time in support of this cause. The workforce responded enthusiastically and since that time around 30 employees take turns serving breakfast three days per week between six and eight each morning at nearby St-Octave Elementary School. Bob Leclair, General Manager of CCR Refinery is one of these volunteers.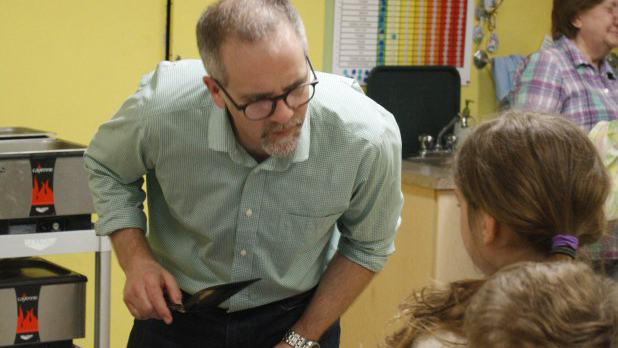 Bob Leclair, General Manager of CCR Refinery, is one employee volunteer who helps serve breakfast to children at a nearby elementary school.
It was during one of these shifts that Leclair spoke to a visiting newspaper, TC Media. "We find it important to give back to the community. The children are happy, and we see that it makes a difference in their lives to share these moments before they start school," said Leclair.
The breakfasts provided offer students healthy choices and variety that allows them to start the day right. French toast is a favorite. The selections also include fruit, dairy products, cereal, juice, muffins, ham and grilled cheese sandwiches, with menus changing up regularly.
Pierrette Joly, program manager and director of Action Secours Vie d'Espoir (ASVE), which helps to facilitate the meal services said, "These breakfasts are not only helping our young people to be fit and healthy development, but also to break isolation and create links between them."
It is clear that CCR Refinery not only helps to serve hot meals, but also serves up hope, dignity and an opportunity for the community to rally behind its children.