CAREERS
Students and graduates
We offer exciting entry-level opportunities to recent graduates as well as students in fields ranging from geology and engineering to trading, sustainability, logistics and finance – to name but a few.
As an example, each summer at our Sudbury INO, we provide meaningful employment to post-secondary students that are the children of our employees, in addition to other students from the local community.
In 2019, Sudbury INO hired 54 such students, who work at various locations across Sudbury INO's site. This hands-on learning experience gives them valuable knowledge and enables them to grow within their related field of study.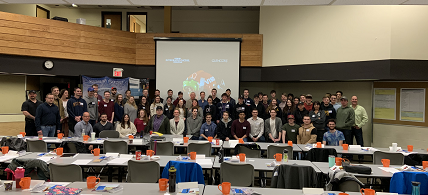 Summer Students Sharpen Skills at Sudbury INO
At Raglan Mine, the team is dedicated to hiring Inuit employees. The site's award-winning, multi-faceted Tamatumani program offers the "Stope School," an initiative that trains Inuit in mining-related tasks with the promise of guaranteed employment upon graduation.
Initiatives like these introduce the mining industry to the next generation of leaders and supports our capacity-building efforts – both of which help address the skills shortage facing the mining industry in Canada.
Raglan Mine's commitment to education does not end with people who work directly for one of our sites. The site recognizes the value of education in bettering our communities and support those who demonstrate school perseverance.
If you are dedicated and driven, you have a can-do spirit, and you are willing to learn and take responsibility, we offer the chance to develop your career – and the rewards to match.
We value diversity, and respect people from all backgrounds.
If you're bright, curious, confident and keen to grow with us, you're who we're looking for.